Annual Horticultural Show and Fete
Saturday 7th September 2019
Gates Open – 12.30 pm
Free Parking & lots of free entertainment
Admission : £4 Adults & £1 Children
Alfrick Playing Field
Postcode: WR6 5HJ
Alfrick & Lulsley Show – 2019
Arena & Show Events​​
​​ ​​
​​ 12.30 Opening Ceremony    
We are very pleased to welcome our compère​​ for the day​​ Andrew Easton​​ from​​ BBC Hereford & Worcester radio​​ to open the show with the show's chairman​​ Rev.​​ Anne Potter​​ & this year's president​​
Mrs. Claire Sanders.
​​    
​​​​ 1.00  ​​ ​​ ​​ ​​​​ The Worcester Concert Brass​​   
​​ ​​ ​​ ​​ ​​ ​​ ​​​​ who will play for your enjoyment during the afternoon.​​
​​ ​​ 1.30 Belly Fusion Dance Collective  
Welcome to​​ Jane​​ and her​​ team​​ who will perform​​ special contemporary tribal belly​​ dance routines,​​ with unique costumes and using a variety of props.
​​
​​​​ 2.00 Steve Kaos Circus Entertainer 
A warm welcome to​​ Steve White aka Steve Kaos​​ who​​ will show us amazing circus skills performed especially for you.​​
​​ ​​ 2.15 Battle of Britain Memorial Flight​​
 Flypast​​ of​​ WWII Spitfire
​​​​ 2.30 Classic Car Parade​​    
See some of the beautiful classic, vintage and veteran cars on show drive around the arena.
. ​​​​ 3.15 Belly Fusion Dance Collective​​ (reprise)
Jane and her team will perform more contemporary tribal belly​​ dance routines,​​ with unique costumes and using interesting props. ​​​​
​​ ​​ 3.45 Aerobatic Display​​    
A welcome return to​​ Neil​​ Parkinson​​ who will enthral us with his aerobatic skills in his modified Pitts SIS stunt bi-plane G-FORZ.
​​​​ 4.00 Steve Kaos Circus Entertainer​​ (reprise)
More fascinating antics​​ from Steve Kaos performing his circus skills.​​
​​​​
​​​​ 4.30 Presentation of​​ Cups​​ (Horticultural & Dog Show)
 and if possible a parade of some of the Dog Show winners
​​​​
​​ ​​ 5.00 Drawing of​​ Raffle & Auction of​​ Produce
Event timings are approximate and may change. All events are weather permitting.
Please listen out for announcements​​
During the show we will be using a drone to record distant video images for future use on this website and other promotional material. We will also be taking photographs at ground level for the same porpose. If you do not wish to be photographed, please talk to one of our committee members, who will be wearing a yellow tee-shirt.
Raffle
Each year we have a Grand Raffle with lots of great prizes. For more details click here, or If you wish to purchase tickets in advance of the Show please email us.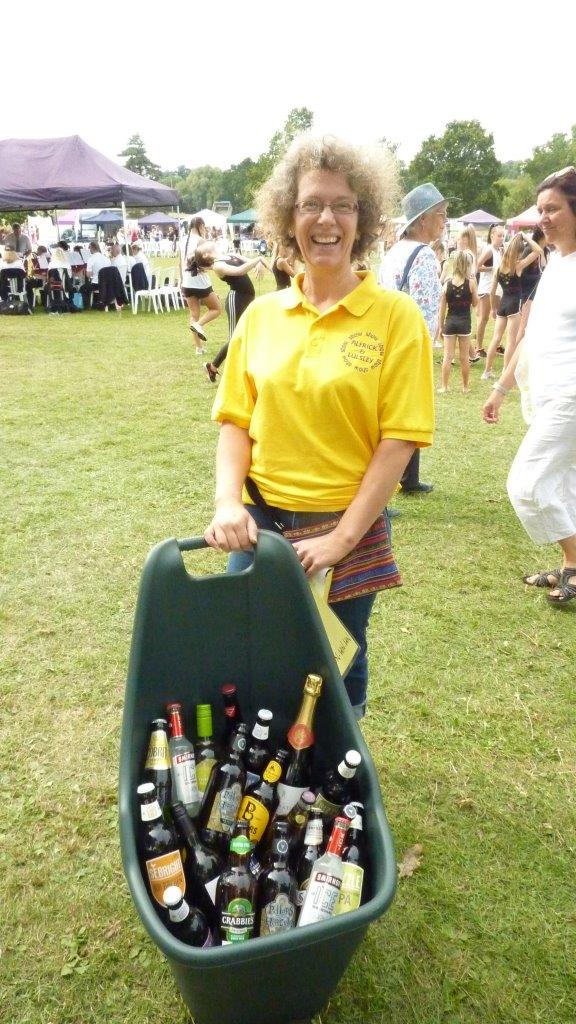 This 2018 barrow of booze, was kindly sponsored by Wye Valley Brewery, The Hop Shed, The Fox and Hounds at Lulsley and The Live and Let Live at Bringsty Common.
Horticultural Show
Anything from parsnips to painting, cakes to wine, photos for adults and children, and lots more – there's sure to be a section for you AND your children.  Children's and Community Groups can enter a collage with a £20 prize for the winner in each class, and a cup will be awarded for the collage voted by the public as their favourite on the day of the Show.
Stalls & Exhibitors
Details of the 2018 Stall & Exhibitors are available here
Volunteers
 We are always looking for new volunteers to help on show day. Without our volunteers we could not run the show or donate so much money to local good causes. If you would like to help, please contact us for more details
Classic Car Parade​​
Do yo have a classic, vintage or veteran car and would like to bring it to the show, then  please contact us for more details
Why not offer to help us  with the show, all help appreciated, click here for details
To view or download our rules, schedule, recipes and entry form click on the following links:
2019 Stallholder-Exhibitor Instructions
2019 Stallholder-Exhibitor list
Download Adobe acrobat pdf reader
For a map to find us see our contact us page, Satnav directions use WR6 5HJ and follow our local signage